A group of people, each one of who is respected as a person, creates a company with dignity.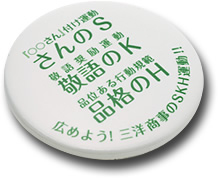 What we want of our employees is for them to be people who can be respected by colleagues, customers and people in the community as we create a corporate environment in which people can be respected without prejudice.
One of the action guidelines of Sanyo Syoji is to honor and respect one another. In order to encourage everyone to do this better we launched SKH Campaign in April 2008.
S: Use san after everyone's name K: Use keigo (polite language). H: Conduct yourself with hinkaku (dignity).
A person cannot develop dignity overnight.
Only those who constantly think about how to act, aim at a higher standard in terms of their behavior and speech, take care their appearance and act responsively in their official capacity will have an air of dignity around them.
Through our action guidelines we will make Sanyo Syoji a company that anyone can see has an ever-increasing level of dignity and finesse.